Information
Dec. 11, 2019

New homepage has been released.
Greetings
Induction/Dielectric heating by using High Frequency (Radio Frequency) Energy has numerous features, such as 【Quick & High Temperature heating】、【Selectable heating】、【Clean heating】、【No contamination】. Melting, Hardening, Brazing, shrinkage fitting, plastic junction, surface processing, metal alloying are typical applications of HF Induction heating.

High Frequency Pre-heaters for thermosetting plastic is worldwide provided.

I.mecs faces the fact of phenomenon, take innocent technology and quick action accompanied with specialized in HF Heating.
I.mecs provides not only equipments (hardware) but technologies (software) to comply with user's requirement.
About the experiment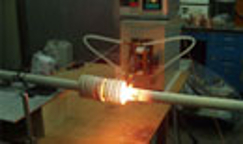 【 HEATING TEST is first step. 】

Contact us now
CONTACT US
TEL:+81-4-2951-6010
I.mecs Co. Ltd.
Address

2-4-22 Wada Higashi-Tokorozawa Tokorozawa Saitama, Japan 359-0023
By Train

4 minutes on foot from JR Musashino Line "Higashi Tokorozawa Station"
Contacts

tel : 81-4-2951-6010
fax : 81-4-2951-6011
Please contact Higashi Tokorozawa Station or nearby if necessary.